Nickerie.Net, woensdag 28 juli 2010
---
Hele wereld weet: drugssmokkelaar Bouterse wordt nieuwe president van Suriname
Als er verkiezingen zijn in kleine derde wereldlanden landen, strekt het nieuws hooguit tot de buurlanden of de regio. Het nieuws over Bouterse's verkiezing tot president had een veel hogere aandachtsindex, niet in een positieve, maar in negatieve zin. Suriname was in 1988 tot in de verste hoeken van de wereld positief in het nieuws gekomen door de goudenmedaille overwinning van Anthony Nesty op de Olympisch spelen van Seol. Daarna is Suriname enkele keren wereldwijd in het nieuws geweest vooral vanwege rampen en tussendoor vanwege de telefooncoup van Boutserse. De verkiezing van Bouterse tot president had een dusdanige sensationele nieuwswaarde dat er lappen tekst aan werd gewijd door kranten en websites over de hele wereld. Bouterse had het kunnen weten en eigenlijk wist hij dat ook. De succesvolle campagne van regering Venetiaan met prima werk van minister Santokhi, om Suriname's imago te verschonen van de aanduiding als narcotica- en drugsdoorvoerstaat, werd in een keer om zeep geholpen doordat de hoofdschuldige/verdachte de heer Desi Bouterse zich op slinkse wijze opwierp tot president van Suriname. Dit nieuws ging de wereld rond en Suriname was opnieuw weer op de kaart gezet met trefwoorden: Bouterse-Drugs-President-Suriname.
Hieronder een kop van een krant uit Nieuw Zeeland
"Drugssmokkelaar wordt president"
---
Drug smuggler elected president
AP - Former military strongman and convicted cocaine smuggler, Desi Bouterse, who previously seized power in two coups, has been elected president of the South American country of Suriname. Bouterse, accused of human rights violations and wanted in the Netherlands to serve a drugs sentence, received 36 votes out of 50 in parliament. He takes office on August 12.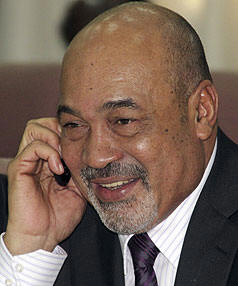 Desi Bouterse, MR PRESIDENT: Desi Bouterse has been elected leader of the small American nation of Suriname. (Reuters)
The vote followed a May election in which Bouterse's Mega Combination coalition won the most seats - 23 - but fell short of the two-thirds majority needed to name a new president via parliament.
"We cannot ignore that Bouterse has been sentenced in the Netherlands to 11 years imprisonment for drug trafficking," Dutch Foreign Affairs Minister Maxime Verhagen said in a statement.
"He is only welcome in the Netherlands to serve his sentence," he added.
The former army leader's return to power followed political pacts with long-time enemies. He reinvented himself as a defender of the poor who draws influence from Venezuelan leftist President Hugo Chavez.
One of his campaign promises was to give a computer to every child in Suriname, even though rural parts of the country do not have regular electricity supplies.
When the results of the vote were read out, supporters of Bouterse cheered in the National Assembly and outside in the Independence Square, where the event was being broadcast on big screens. They also let off fireworks to celebrate.
"I reach out my hands to all Surinamese because we need all Surinamese together to build up this country," an emotional Bouterse said after the result. "We Surinamese are the rightful owners of this country, not foreign nations."
The US Ambassador to Suriname, John Nay, said he was pleased Bouterse was reaching out to his opponents.
"We're prepared to work with any government that shares our values and that we can work together with on our mutual interests. We have many," he told reporters.
A sparsely populated former Dutch colony on the continent's northeastern shoulder, Suriname won independence in 1975 and is now a gold and bauxite miner with a nascent oil industry.
Bouterse said he hoped to strengthen ties with Brazil and China in government. The Asian giant is already deeply involved in logging and road building in the rainforest-covered country.
HUMAN RIGHTS CRITICS
The 64-year-old Bouterse, who critics have denounced as a dictator, will replace outgoing president, mathematician Ronald Venetiaan, after defeating Justice Minister Chandrikapersad Santokhi, who got 13 votes in Monday's parliamentary poll.
Before the ballot, two local human rights organisations had appealed for members of parliament to reject his candidacy.
Bouterse took part in two coups in Suriname in 1980 and 1990, and he still faces prosecution in his country for the execution of 15 opponents in 1982 during his military rule.
That trial began three years ago, but he has refused to attend court and the proceedings have continued without him.
He was also convicted in absentia of drug-trafficking by the Netherlands in 1999, which has prevented him from traveling to countries that have extradition treaties with Amsterdam.
In 2005, his son, Dino Bouterse, was sentenced to eight years in prison for drugs and arms trafficking and trading of stolen luxury cars. He was released before serving his full sentence.
Selecting leaders in the small but culturally diverse nation, which has a population of 490,000 people, is typically a drawn-out process, and observers said the vote was preceded by long negotiations between political parties and blocs.
Ronald Venetiaan's New Front for Democracy party won 14 seats in the elections on May 25, with a partner of his current government coming third and the party of a former guerrilla who fought against Bouterse coming fourth.
Bron / Copyright:

Nickerie.Net / Stuff.co.nz

20-07-2010


Email: info@nickerie.net
Copyright © 2010. All rights reserved.
Designed by Galactica's Graphics