Nickerie.Net, dinsdag 23 november 2010
---
Presidents Jagdeo, Bouterse in exchange visits
Guyana, Suriname advance talks on bridging Corentyne River
Written by Johann Earle
President Bharrat Jagdeo and his Suriname counterpart, Desi Bouterse yesterday arrived in Guyana via the Moleson Creek ferry terminal, wrapping up their third meeting in about two months and further signalling their firm intention to deepen ties between the two neighbours, including bridging the border Corentyne River. They announced that the two governments are seeking Chinese investment to build a bridge across the river, and said the project was advanced during President Jagdeo's visit to Nickerie from Friday, where he and Bouterse and top cabinet ministers from the two sides continued cooperation talks. In a clear signal of their desire to work together, the two Presidents travelled on the Canaiwaima ferry across the Corentyne River to Moleson Creek, from where they motored to scheduled visits on the Corentyne Coast.
After visits to the Tain campus of the University of Guyana, where they met and answered questions from students, and a tour of the Ophthalmology Centre at Port Mourtant, they told reporters at the Little Rock Suites Hotel in New Amsterdam that putting up the bridge across the border river was high on their agenda to advance trade and other bilateral ties.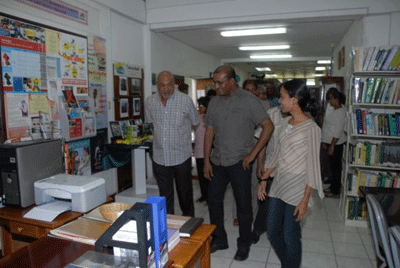 "
Presidents of Guyana and Suriname, Bharrat Jagdeo (centre) and Desi Bouterse (left) at the Tain Campus of the University of Guyana yesterday. (Photo by Sandra Prince, Office of the President)
We have had discussions on it," Mr. Jagdeo said. "It was the subject of a meeting yesterday (Friday) as to how we would proceed with the next step. We have defined the work of the committee that we agreed when we met in Guyana, so [the committee] will proceed now to [look at] the technical options available; where would be the best site to locate the bridge."
He said the joint committee will study the various sites, and then look at the technical specifications of the bridge -- whether it would be fixed or floating, the height and other parameters.
"On the basis of that, we will then seek proposals from various sources, and we hope those proposals will involve some financing options. And then we will make a determination and, hopefully, move forward with the bridge," President Jagdeo said.
"Those are the steps that we discussed yesterday (Friday) in very concrete terms as to how we will move this forward," he said, adding: "This is not just something futuristic; we are actually working now to make this a reality."
President Jagdeo noted that while crossing on the ferry yesterday, President Bouterse pointed out that there is a three-hour period from the point of check-in to the point of the MV Canawaima's departure, and both leaders felt that this precious time lost while waiting on the ferry could be used as an economic case for justifying the building of the bridge.
"If you look at all the time wasted and you [put a cost to that time], it makes the project feasible. It may pay back for the project itself, just from [cutting the] time wasted," President Jagdeo said.
"Clearly, the economic case for the bridge has been made; it is just that the President of Suriname had the courage and the political will to commit to this," he noted.
He recalled that when the two leaders met about two months ago in Guyana, they both committed to deepening cooperation between the two nations in several areas.
"We both expressed a desire to speed up the programmes between our two countries, and to link the visions of both countries to create a better life for their people," he said.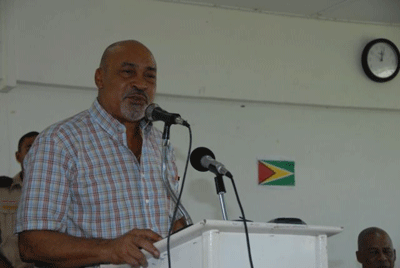 Students of the Tain Campus of the University of Guyana listen attentively to President of Suriname, Desi Bouterse during a visit there by the Head of State of the neighbouring country and President Bharrat Jagdeo. (Photo by Sandra Prince, Office of the President)
"We have agreed that a technical team comprising Guyanese and Surinamese will meet very soon – within two weeks – to determine technical issues that would be critical to the soliciting of bids for the bridge," President Jagdeo said.
"If we have those, then we may be able to get proposals from various investors or contractors, which would give us a price, and we have insisted that there be some financing terms attached to it. Once we have the price and the financing terms, we may be able to determine which is the best option," he reported.
Both Presidents stressed the importance of the new direction in which they want to channel Guyana-Suriname relations.
"I am really pleased that we meet this often, because we want to send a clear signal to people on both sides that we are going to do whatever it takes to enhance closer cooperation," Mr. Jagdeo said, adding: "I don't have any apologies for three meetings [with Bouterse]."
"In fact, I think you will be seeing the President of Suriname and I many, many times in the near future. I have extended an open invitation to him (to) come to Guyana at any time."
For his part, Bouterse said that by meeting and talking, both countries will have a clearer idea of what is needed to get various projects off the ground.
On the issue of 'back-track' (illegal) entry into Suriname, President Jagdeo said this was discussed very briefly during the meeting.
He said the two countries will have to sit and determine the extent to which the 'back-track' route is 'regularised'.
"One thing that we were clear on is that we don't want to make it harder for people to travel; we don't want to do anything that would slow down the movement of people," he said, adding that the ministers of Foreign Affairs and Finance in both countries will have to speak about this, and work out an arrangement whereby the laws of both countries are respected.
Speaking about changing the historical narrative of the two countries relations, President Jagdeo said that for decades, all that people have heard of Guyana and Suriname and the relationship between these two countries had to do with the New River Triangle, the maritime boundaries, and the dispute over the Corentyne River.
"They never had a positive narrative about the relationship between these two countries, and there are so many positive things that we can say, that we can build on to bring benefits to the people of Suriname and Guyana," he said.
He noted that the exchange visit yesterday in Guyana, and the day before in Suriname will help to change that historical narrative.
"Hopefully, the press will focus on these things; the possibilities and great opportunities that exist if we focus together on developing them," Mr. Jagdeo said.
He said the latest discussions also included agriculture cooperation between the two Caribbean Community (CARICOM) member states, and focus was placed on the development of rice cultivation in Suriname.
"...while we agreed to broader cooperation in agriculture, we will do so specifically in the rice sector. And we have planned several exchange visits to both countries, and, hopefully, that would advance movement in that area," President Jagdeo said.
He said too that they spoke about border crimes. "We recognise that we have to do a number of things: We have to strengthen our capabilities to administer to ensure that people do not commit illegalities, but at the same time, the focus cannot be just on regulations and toughening up procedures at borders. Most countries in the world today are promoting cross-border exchanges, and so should we. So we agreed that we should seek to make it easier for people to move, which is part of what CARICOM is trying to do, but because we live next to each other, we can advance this process even more rapidly," he said.
According to President Jagdeo, the two leaders committed to increasing trade between Guyana and Suriname, since this is something that CARICOM is also promoting through the single market. They also spoke about making it easier for investors to be able to move and invest in both countries, he said.
He said the talks also covered increasing the frequency of the Canawaima ferry crossings from two to four trips per day.
Energy issues were also discussed, including wind power, hydropower and solar energy.
"The main thing is that energy is vital for both countries; energy security is vital for growth and development. To the extent that we could coordinate our efforts, we should," said President Jagdeo.
"In Guyana's case we would need all the help should we find oil and gas. Suriname already has some expertise in this regard and has generally offered to share that expertise with us," he said.
Prime Minister Sam Hinds accompanied Bouterse back to Moleson Creek for his return crossing home.
Bron / Copyright:

Nickerie.Net /Guyana Chronicle

21-11-2010


Email: info@nickerie.net
Copyright © 2010. All rights reserved.
Designed by Galactica's Graphics